AIDS is a non curable disease and there is not a special diet for people infected with HIV. The good nutrition cucumber quinoa salad can help prevent or delay weight loss and other complications. HIV infection affects the immune system of a person. Nutrition intake is necessary for them. It makes a person more vulnerable to infections including food poisoning from Salmonella Shigella and other bacteria. Such food borne infections occur frequently and are more severe in people with reduced immunity.
Food safety with right nutrition
Anyone who is HIV Negative or prepares food for an HIV patient must pay special attention to food safety. Washing hands properly all the time is must . These are the key points for a healthy way of living –
Keep hot foods hot and cold foods cold. It is important to avoid contact between raw and coked foods.
Wash your fruits and vegetables properly . These won't cause problems as animal products, they should be washed thoroughly.
Consume plenty of starchy foods like pasta, rice, cooked vegetables, fresh juices for essential vitamins and minerals.
Small meals and snacks throughout the day.
Avoid raw or under cooked fruits and vegetables
Avoid alcohol which can cause diarrhea and interact with AIDS medications.
Cucumber Quinoa Salad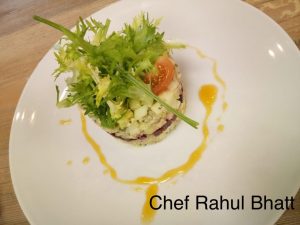 Quinoa – 1 cup washed
Cucumber- 2
Beetroot -1
Green apple or Washington- 1
Nuts ( Almonds, cashews and pistachios) – 10gms
Olive oil – 2 tablespoon
Salt and pepper- as required
Lettuce – few as required
Dressing – Lemon Vinnegranate
Lemon – 2
Honey – 1 tablespoonful
Salt – as required
Olive oil – 1 tablespoon
Pepper – as required
How to cook cucumber quinoa salad –
To cook the quinoa, combine the rinsed quinoa and water in a medium saucepan. Bring the mixture to boil on medium heat for about 15 minutes, remove it gently .
Mix all the ingredients of dressing in a small bowl .
In a large bowl mix all the ingredients together and pour the dressing.
About – Rahul Bhatt is a young chef currently working at Florida, U.S.A. He spent his childhood days in the state of Uttrakhand. The Chef has worked and experienced with many good chefs. Also he is a member of World Chef Socities  and Indian Culinary Forum . Follow the Chef and get his recipes here – Instagram , Facebook , Twitter , Facebook page Chef Rahul Bhatt
Check the recipe of Bharwa Karela Recipe