Mangoes are the king of fruits. Also mangoes are the only reason why I eagerly wait for summertime. Now a days many people are avoiding mangoes due to the sugar content in it but I am strongly against it. I eat a mango daily, mango ice cream and other deserts too. Everyday I soak my mangoes for half hour in a bucket then wash them thoroughly and while chopping them cut the opening and squeeze two three drops of juice in sink. It is the most healthy way to eat a mango
Eat your mangoes right instead of consuming those packaged food stuffs
In the scorching heat of summer it cools down. It is natural sugar so consuming it is not harmful for human bodies. What we should avoid is those packaged food stuffs like mango fruity and mazza drinks because they are sold throughout the year irrespective of the season. They contain a lot of preservatives to avoid getting rotten. Also these drinks contain artificial added sugar which is not good for our body.
This is the reason I make my mango deserts like Mango srikhand, mango ice cream, Aamras and aampad always at home. In the post I am sharing tried and tested recipe of mango ice cream. I followed the recipe by Chef Rahul. I made condensed milk at home to keep my Ice cream more fresh and less sugary. You can also try making Tagliatelle Pasta at home.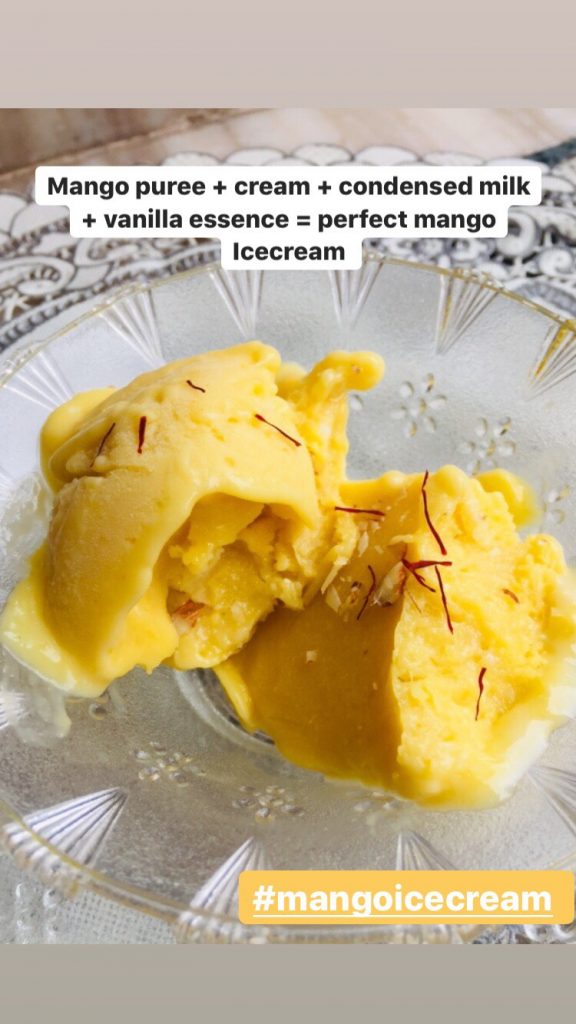 creamy and delicious restaurant style mango ice cream at home
Heat 500 ml milk in a pan and add 1 cup sugar to it. Keep stirring it. Keep the flame to low temperature. Heat it till the consistency thickness. This will take around 30 minutes. When the milk and sugar will be completely caramelized, close the stove and add a pinch of baking soda to it. Mix it properly. Our condensed milk is ready.
Take 2 cups of fresh cream in a bowl. In another bowl take some ice cubes. Beat the cream bowl keeping it on the ice bowl till it becomes fluffy.
Extract some vanilla seeds from the pods or take a spoon of vanilla essence into the fluffy cream mixture.
Chop approx 500 grams of mangoes and puree them in a mixture or use your hands and a strainer.
Mix the fluffy cream, mango puree, and condensed milk ( on cooling ) together. Fold it nicely with a spatula.
Add some nicely cubed mango pieces to it and mix gently.
Refrigerate the mixture in a closed lid container for 8 hours. Our delicious mango ice cream is ready to serve.