Reading is an awesome hobby parents can develop  in kids.
Summer vacations are here and this summer I am recommending kids to play outdoor games and read books instead of keeping eyes hooked on the phone and tablet screens. I am a book lover and after reading books for a long time I can proudly say to parents that if you develop the reading hobby in your kids you are shaping their life in a better way. Books not only improve the vocabulary skills of kids but expand their thoughts and rise curiosity  in them.
My post for bookslutthrusday
This week  I chose books that are light and easy to digest for the bookslutthrusday post. These books will surely be loved by kids and spread knowledge relating to storytelling among them. Along with a bookmark and packet. Further explanation is as under –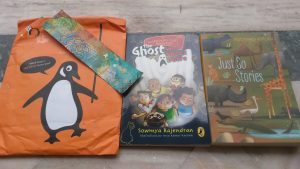 1. Orange Penguin packet is by Penguin India which I am using to store my bookmarks collection in it .
The artistic bookmark kept on the packet is creativity of Modern Gypsy with beautiful colors and  Blogchatter logo on it.
Next is a book A rulebreaker's club adventure – The Ghost who wasn't there which Is a short story book that I will be reading today and reviewing soon.
I got this book by Crossword Bookstores in a Rulebreaker Club activity at twitter.
My next read will be Just so stories.It is by Rudyard Kipling. It contains stories of the jungle animals which excites me to read the book on a rainy day.
Why kids should read these books ?
Book 1. The ghost who wasn't there is a book with a story of 5 kids in a Rulebreaker club adventure. Kids will love reading this story. It will expand their imagination they will feel a movie playing in front of their eyes while reading the book
Book2. It is Just so Stories by Rudyard Kipling.  There are short stories on animals inside it. This will increase the knowledge of wildlife of kids. Also the children will be reading instead of keeping himself busy on mobile games.
I hope the kids read this books and then post their bookslutthrusday  post with the help of your mommy or daddy and share what you read every weekend in the comments below.