Must Read The Fascinating, Heartbreaking Story
There are 340 pages in the book The Kite Runner 10th Anniversary edition, but when I reached the last few lines I wanted to read more and more about Shorabh. Did he finally get back to smiling without fear? Did he accept you as parent? Was he like any other kid forgetting the unforgettable pain that destroyed his childhood days.
It doesn't matter to me if people call this review biased because I am going to reveal everything that I loved while reading the book.
I rate this book as 5/5 and there is no one who influenced me to rate it. It is totally personal opinion.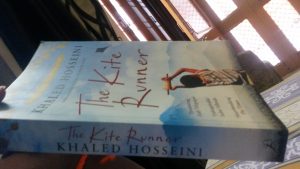 Highlights of The Kite Runner
I started and finished reading the book by the third day noon. In the middle, I had to take breaks to complete the homework but it didn't stop my brain even from thinking about what's next in the book.
Book Review
This one story contains many other stories inside it. I am a fan of the author after reading the book because he connected it so well to me that I could picturize every word in front of my eyes.
I literally wish to know more about Sohrabh.
The story actually begins and end with kites. Hassan The boy who ran for catching Agha Shahib's blue kite had his eyes glittering with smile then the incident that happened after that stole his smile while on the other side Shorabh's lost smile was returned back after flying Kite on the roads of America and once again his eyes glittered without fear.
It was beatifully connected with the name apt for the book The Kite Runner.
The book proves that happiness lies in small things like The tree climbing, reading a story to your friend, glancing mirror at the neighbourhood or the cuts by the thread of the spool while flying kites.
Hassan's happiness lied in serving Baba and Agha Shahib. Keeping the food ready, ironing clothes and singing folk songs while ironing them.
There are so many hard truths in the book like Baba's Cancer, the reason why Baba never missed gifting to Hasaan on his birthday, the reason why he didn't shower his Love to Ameer. It shattered me from inside when later in the story I found that Assef was with the Taliban and He was the one who kept Sohrabh a little child as his servant, did false acts with him. I was shocked when Sohrabh hit Aseef during the fight else the story would be different but then he got the courage because false doesn't stay for long.
Killing of Hassan and his wife, and killing of people in Afghanistan like on the ground and selling artifical legs as mentioned in the story was really hearbreaking.
While reading the book I developed an attachement with the earlier Kabul but the end condition of Kabul was so much worse. Even I felt sorry and tears in my eyes for everyone. I could feel it when the author says that the place wasn't like earlier. The sand and trees didn't smell like earlier Kabul. Broken houses and broken feelings. People migrating to other places. Parents sending their kids to orphanage because they can't take care of them.
Woman can't speak loud incident mentioned by Hassan about the beating on his wife in the vegetable market broke my heart.
Sohrabh's fear in the eyes. My heart melted to see him hugging Agha Shahib and crying and then sleeping. His committing the balde act in the bathtub gave me goosebumps.
There is love in everyone's heart for the Janambhoomi ( country ).
The best step was taken by Rahim Khan Shaheb by making a call to Agha shahib, telling him the truth and sending him the last note. I loved the smell of romance in the book when author writes the heena hands, looking in the mirror to your partner for the first time and all such acts.
I belive shorya and Ameer couldn't get a baby because Allah planned for them that in a different way by gifting them Shorabh.
Poverty in the place where Ameer Agha handover a watch to the kids where they are looking for food. This again heartbreaks me.
If a straw can tickle a man it is an instrument of Happiness .
The book is a complete heartbreaking tale where the message comes out that –
We can never be happy in life unless and untill we are guilt free at heart.
We always do things and think like the other person must have not seen it but we forget that We ourselves are seeing it. We can't hide anything to self.
and one day that regret take it's revenge on us.
I was happy that Ameer Agha have taken Shorabh to his home and was also indulged in helping those needy people of Afghanistan.
This was just one story which broke my heart thousands of times and I know there must be many Shorabh and Hassan in that County who had more heartbreaking stories .
My heart prays for peace in every part of world. Reading this made me cry; for the people who face such massacre it must be hardest for them. Like in the story, Baba refused to receive treatment from a Russian doctor after what they did to Kabul. It rises nothing but hatred in people for other people, so I pray to Allah for peace and no such tragedies.
Connect with the author at
Khaleed Hosseini  and if you want to join your hands in helping such destroyed nations or kids in orphanage and families who loat their homes you can donate for them here TKHF .
The book is a publication of Blooomsbury and I encourage them for such more publishings. They are really inspiring stories.
Buy the book here –