The book The Boy In The Striped Pyjamas is a book that will make you fall in love with it. There is good friendship in the book and also fun elements out there but the ending, it will make you cry for sure.
Vintage Classics – The Boy in the Striped Pyjamas




The book The Boy in Striped Pyjamas is a vintage classics book written by author John Boyne. It is a fable of a little boy who tells about his childhood days. The story revolves around the story of a family during the Second World War in Germany. Also I felt this book related to The Book Thief in quite a lot of ways.
In the story the main character is Bruno, a 9 year old boy who was taken away from his good life at his home at Berlin to go to Out-With suddenly. He was taken away from his home to shift to a new place with his family. The book describes the unawareness of this little boy. This little boy had a curious mind and wanted to explore all the uncertain things which happened around him. He wasn't able to understand all that was going in his life. His sister didn't play with him and was busy with her makeup and barbie dolls. So he missed the company of a friend to play along with. There one day sitting at a window, he finds a friend and the story goes on.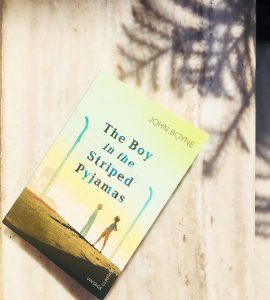 What I don't like about the book –
I have read the book and felt that the story don't have an appropriate end, I want to know about what happened to so many characters who disappeared from the book. Also I felt that there were many sentences repeated in the book which makes me angry. I think if I am reading a book, I don't want to read a line twice or thrice, It irritates me.
It would be better if the author wrote more clearly about the new things rather than repeating many things.
The book at the end also contains a set of few questions answered by the author along with a quiz time.
pages – 223
Buy the book here –
Ratings – 3/5