About The Author Ashwini Dodani who wrote Savoir Faire

Do the WRITE Thing says the poet Ashwini Dodani and it's been a year since I know the poet through Blogchatter . I have been following him on social media channels and reading his creative short poetries. He create instant magic with his words and yes I can say he have in himself that creative poetry writing skill in his veins which touches the heartstrings of the readers. Poet Ashwini Dodani is a Digital marketing strategist from Mumbai. Check the other short poems and heart captivating blogs of the author here Ashwini Dodani . And below is the review of the book Savoir Faire.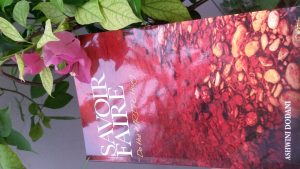 Savoir Faire Poetry Book Review
It is a poetry book with collection of 40 poems.  That means it will take 40 minute to read this book. Yes, it is a short time read book. We can read it on a ride to metro while coming to home from office or on a rainy weekend or as per the preferences and time but to understand the poems it took me long. I heard it from experts that it take very wise to read and write poems. Everyone cannot write and understand that depth in the meaning. During school time my English teacher explained the poems to me then I began to read Gulzar and his poems always came to me because they were in Hindi.
Reading English poem and understanding them was tough for me but then I learned the trick to understand the poems from a book The paper towns by John Green. Earlier I read an English poem, and forgot it in no time but after reading the book I realised that how poetries can hide in them so many meanings and messages.
In the book Savoir Faire, most of the poems are about the pain one faces in life while meeting his Goals in life. At times we all are left alone. Either in a relationship or due to any failure or at one point we feel like giving up and at that time we need that solace. We want that peace at heart which can clam the volcano of thoughts rising inside at our heart.
His poems are of that level. Many of these poems can be a friend in that empty part of life.
There is beautiful rhyming in so many of his poems. The poet did justice with the poem and their names very well.
The poet is a heart-throb of many girls when you read the romance in his words like in the poem The first kiss, love, slave of love, that beautiful night and so on.
My favorite poems from the book are let's skydive, Holiday, winter, That beautiful Kohl eyed girl and She.
I love each poem from the book.
I got the autographed copy. I am not judging the handwriting of the poet here because autograph  matters more. I liked it that he said –
Hope you like the poems!
It touched me because mostly everyone is interested in the poetry book or will write hope you like the book but writing the poems thing made clear the attachment of the poet with poems.
Thank You to Dear Mehul Gohil host of SY5Chat for sending me copy of the book and a handwritten note inside it. I love it very much. SY5Chat organizes amazing twitter chats related to music, poetry, books food and so on. I love to participate in their weekly chats and During one of the poetry chat session on World Poetry Day I won this book. Next time hope to find you around during the chat. Check #SY5Chat and join the chatter .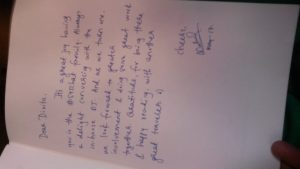 Loved the review ? Let me simplify it for you – I will be happy if you get the Book  from here and read it and share your reviews too –