Welcome to daily face care routine regime . I am someone who used moisturizer as my face cream earlier but growing up and learning things, I discovered the magic of face yoga, layering on face skin,night cream, day cream, CTM and magic of essential oils. I was badly looking for a chemical free face oil. And found Kimsukadi Tail, a face oil by Just Herbs. You can buy Kimsukadi Tail here.
Why face oils are essential for your skin ?
Oil heals the skin naturally. It works like a balm to our skin and adds glow to our face. A face oil repairs the damages, takes out the impurities and helps in better blood flow to the skin. Everyone faces issues like aging, double chin, sore eyes etc along with growing up years. So our skin needs a face oil and a quick massage that improves the blood circulation of the skin and keeps it soft, supple and glowing.
Looking for a face oil that works for your skin like magic ?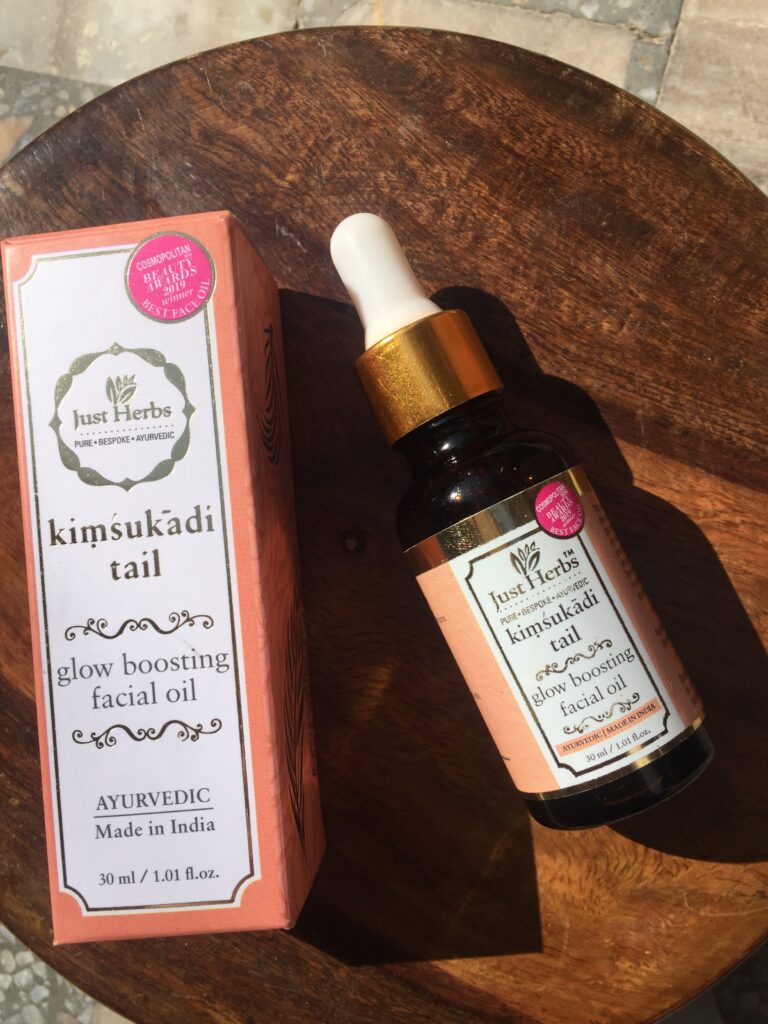 Kimsukadi Tail works on our skin while we sleep. This Glow Boosting Facial Oil by Just Herbs is an Ayurvedic face oil that is Made  In India. It is made from ingredients like cold pressed sesame oil, palash flowers, sandalwood, mulethi, lotus flowers etc . I personally believe flowers are the most beautiful creation of nature. So using flowers in skincare brings extra grace and glow to our natural features. Organic ingredients don't have any side effect on skin. Just Herbs curated this perfect face oil with goodness of so many natural herbs.

This oil is rewarded as the Best Face Oil by Cosmopolitan Beauty Awards 2019. The oil is priced at 2195/- only and works fairy well for my Face Yoga night routine. I take few drops of oil on my palm, charge it by rubbing with other palm. Apply on face area and massage with a jade roller or fingers. It eventually reduced my acne marks, pores and pigmentation. It also added bridal alike glow to my skin. Once you start using a face oil there is no looking back. 
Why Just herbs Kimsukadi Tail ?

Just Herbs is an Ayurveda brand certified by Ministry of Ayush, Govt of India. It is cruelty free, PETA Certified company. The products feel natural, absorbs magically and are free from chemicals. I have also reviewed Just Herbs Gotukula Elixir face serum earlier.