Soultree Apricot oil and honey with kokum butter (moisturizer)
It is an ayurvedic product. Recently I have been using this apricot oil and Honey with kokum butter moisturizer and I am really impressed with the results. It is very good and as well as a product of Soultree, which means it is 100% natural .
Soultree is my favorite trusted brand as it is a member of Safe Cosmetics Campaign and is certified by BDIH GERMANY.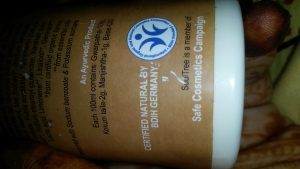 INGREDIENTS (inci) of the moisturizer
As the name of the moisturizer indicates the three ingredients of this lotion are Apricot oil, honey and kokum butter followed with many other organic ingredients like aloe vera gel , glycerin etc.
The good thing about all the ingredients is that they are picked up by hands from wild forests which are cerified and the process of making the moisturizer is done in an Eco friendly manner.
Our skin is most delicate of all, and many times I see people using chemical products over it, which for a short timr leaves the skin with good results but in the long run harms our skin badly, so when I got introduced to soultree, it was eye opening to me.
I am soul tree lotion, body shower, gel , cleanser, face wash, lipstick and kajal.
You must be thinking that the list is long but then it is all worth, because it really leaves skin with surprising results. it never harms my skin and instead keep it supple, soft and glossy all time.
About the moisturizer –
It smells beautiful, and lingers its light fragrance where ever we go.
It is non sticky, it contains vitamin oil cold pressed which are collected directly from the Himalayas, the apricot in it is directly collected from self cultivated farms and honey is taken from Sirumalai forests. It contains kokum butter too and overall all the ingredients are organic and meant for making our skin soft, healthy and happy.
Product Brand – Soultree
Product type – moisturizer
Content – 120ml
Color – white
Cost -250/-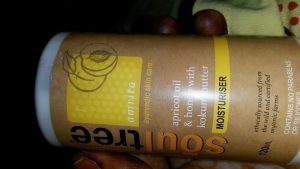 Where to buy the aproct oil andhoney with kokum butter moisturizer ?
Customer care – 91+1142753316
Mail – [email protected]
Disclaimer – It is not a sponsored post, and I have used the product and writing it out of love and affection towards soul tree.
I am participating in the AZ Challenge 2017 with Blogchatter .