Book Title – Alphabet Soup For Lovers
Author – Anita Nair
Genre – Fiction
Ratings – 4/5
Publisher – Harper Collins India
Price – 350/-
After all, it is a good thing to laugh..and if a straw can tickle a man, it is an instrument of happiness.
Spring begins with cherry blossom and reading book Alphabet Soup for Lovers

Hello Readers, Hope you all are doing well ? Wishing you all the season of spring . Everywhere we see around there are so many #cherryblossom🌸 and the sight is absolutely beautiful. Get your camera out and click all the beautiful flowers. This is when I realized We don't need big reasons to be happy. Happiness is always a personal choice and then I continue reading my book Alphabet soup for lover.
It is my third year in A – Z challenge not consistently because I dropped it last year due to some assignments this side. I am going to blog all my posts on the same day itself as I haven't scheduled or planned anything yet. Hope that you all are ready with your creative posts too. If not, anyone you can always come up with something like me before the due time.
Book Review : alphabet Soup for lovers…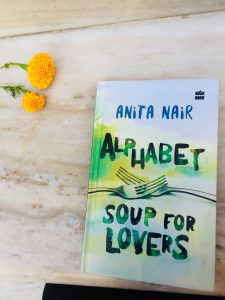 Alphabet soup for lovers is a beautiful book, I have the hardcover edition of this book. The book is written nicely. The whole story revolves around nature so it makes me super happy while reading it. Story line used by the author is very unique also I liked the writing style, the way she used the alphabets from A To Z with each chapter beginning with a south Indian food gripped my attention. The A To Z food ingredients used by author were very traditional with health benefits and completely new to me so it was an informative book with an interesting story revolving around.
I liked the characters of the book. It is a love story triangle and house chores based book. I won't say more about them to avoid spoilers. While reading the book I was in a world created by the author. It is enough for me to say that it was a good book. So this book is a must read suggestion for every book lover by me. You can also check the review of the book Selcted poems by Gulzar on my blog.